Few vehicles are as versatile and capable as the new 2022 Chevrolet Silverado truck. Need to tow? It has you covered. Have payload concerns? No issue thanks to its three available bed lengths. In-cabin technology? As cutting-edge as everything else about this pickup. That segment leadership has gotten the attention of Northern California Chevy fans, and we don't think they'll be surprised when they see how the Silverado compares to the competition at our Chevrolet dealership in Lodi. When pitting the 2022 Chevy Silverado vs. the 2022 Ford F-150 and 2022 Ram 1500, it's clear that the Chevrolet comes out on top.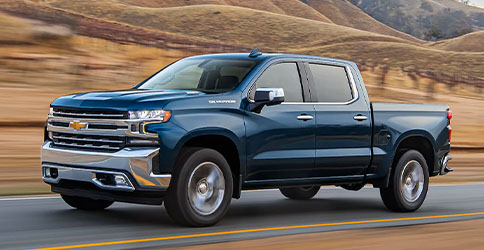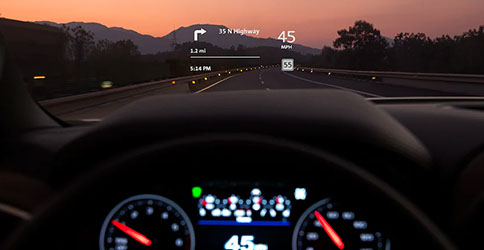 2022 Chevrolet Silverado Engine Specs vs. Rivals
The Silverado engine options start out with a potent turbocharged 4-cylinder that's more powerful than the base engines used in both the Ram and Ford. If you prefer V8 power, the Silverado has you covered with two different choices, a widely available 5.3-liter V8 and the headlining 6.2-liter engine. The latter delivers 420 horsepower and 460 pound-feet of torque -- more power than any of the Ram 1500 or Ford F-150 V8s. Prefer diesel power to gasoline? The Silverado also offers an available 277-horsepower V6 diesel engine. It's just one more reason to buy a new Chevy Silverado in Lodi.
| Specs | 2022 Chevrolet Silverado 1500 | 2022 Ford F-150 | 2022 Ram 1500 |
| --- | --- | --- | --- |
| Max V8 Horsepower (hp) | 420 | 400 | 395 |
| Max V8 Torque (lb.-ft.) | 460 | 410 | 410 |
| Max Diesel Horsepower (hp) | 277 | N/A | 260 |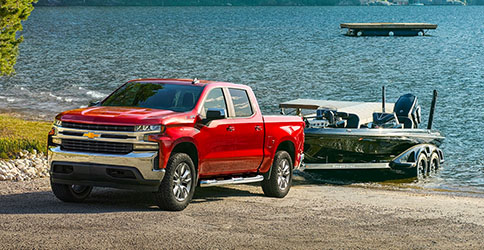 2022 Chevrolet Silverado Towing Capacity vs. Rivals
The 2022 Silverado towing capacity ranges from 9,500 pounds with the base 4-cylinder to 13,300 pounds when properly equipped. Comparatively, a Ram 1500 maxes out at 12,750 pounds and a V8 F-150 can't tow more than 13,000 pounds. An arsenal of advanced technologies also helps make towing with a Silverado that much easier. Among these high-tech features are eight available cameras featuring up to 15 camera views, including a transparent trailer driving view that lets you see through the trailer to the road behind. Perhaps the most groundbreaking feature, however, is the introduction of Super Cruise™, a hands-free, semi-autonomous driving technology that can be used even when towing a trailer. Innovation like this is just par for the course with Chevrolet.
| Specs | 2022 Chevrolet Silverado 1500 | 2022 Ford F-150 | 2022 Ram 1500 |
| --- | --- | --- | --- |
| Diesel Towing Capacity (lbs.) | 13,300 | N/A | 12,560 |
| V8 Towing Capacity | 13,300 | 13,000 | 12,750 |
| Hands-Free Towing on Compatible Roads | Available | N/A | N/A |
| Total Camera Views | 15 | 7 | 5 |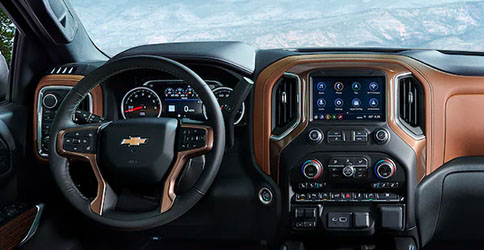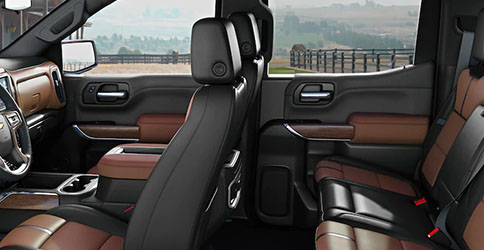 Compare 2022 Chevy Silverado Interior Technology
The 2022 Silverado interior has been thoroughly revised for the new model year, with enhancements including a standard 12.3-inch digital gauge cluster and an accompanying 13.4-inch touchscreen. The latter feature is especially impressive, as you won't find a larger touchscreen in either the Ram or the F-150. Other notable innovations include two new tailgate options: a six-position Multi-Flex tailgate and a power-operated tailgate. Such technological leadership distinguishes the Chevy in this latest round of 2022 Silverado vs. F-150 vs. Ram 1500.
| Specs | 2022 Chevrolet Silverado 1500 | 2022 Ford F-150 | 2022 Ram 1500 |
| --- | --- | --- | --- |
| Max Touchscreen Display Size (in.) | 13.4 | 12 | 12 |
| Standard Suite of Active Safety Features | Chevy Safety Assist™ | Ford Co-Pilot 360™ | N/A |
| Multifunction tailgate | Available | N/A | Available |